Sharp 100 promotion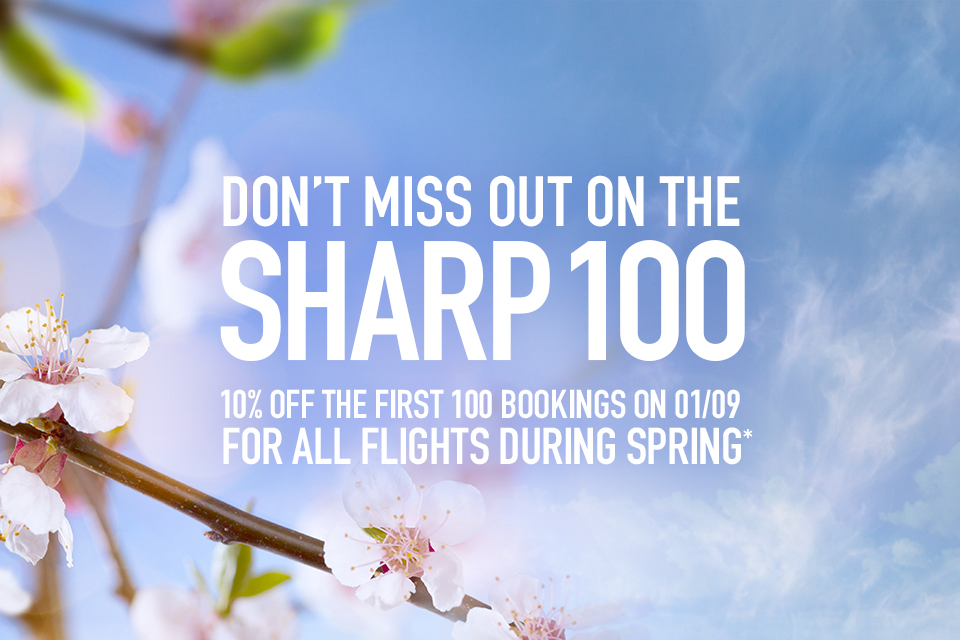 To celebrate the change of seasons: for one day only, we're offering 10% off for the first 100 flights booked for travel during spring.
That's right! You'll get 10% off any flight for travel during spring.
This super Sharp offer is only available for the first 100 bookings made between 10am Thursday 1st September and 10am Friday 2nd September - for travel until Wednesday 30th November.
Use the code SHARP100 at checkout to redeem your 10% discount.
Only available 24 hours from 10am on Thursday 1st September.
And remember - first come, first served!
Book online or call 1300 55 66 94.
The Sharp 100 promotion - T&Cs
Fares on sale: 10.00am Thursday 1st September 2022 to 10.00am on Friday 2nd September 2022 only 
Travel dates: Thursday 1st September 2022 to Wednesday 30th November 2022 on all flight paths
Bookings must use the coupon code SHARP100 to receive the 10% discount – web bookings must enter this code; phone bookings must mention this code
Discount applicable on new bookings only on Fully Flexible fares (Rack rate - Y class)
Available until allocation sold out or promotional period ends, whichever is first
Maximum 2 passengers per booking 
Fully Flexible Fare conditions apply: 

Booking changes and swaps can be made up to 24 hours prior to departure - upgrade fee payable
Name changes permitted at no charge
Failure to check-in for flight will result in loss of fare
Refund may be available if cancellation is made 24 hours before scheduled departure time 
Back to News Section