Take Off With A Free Ad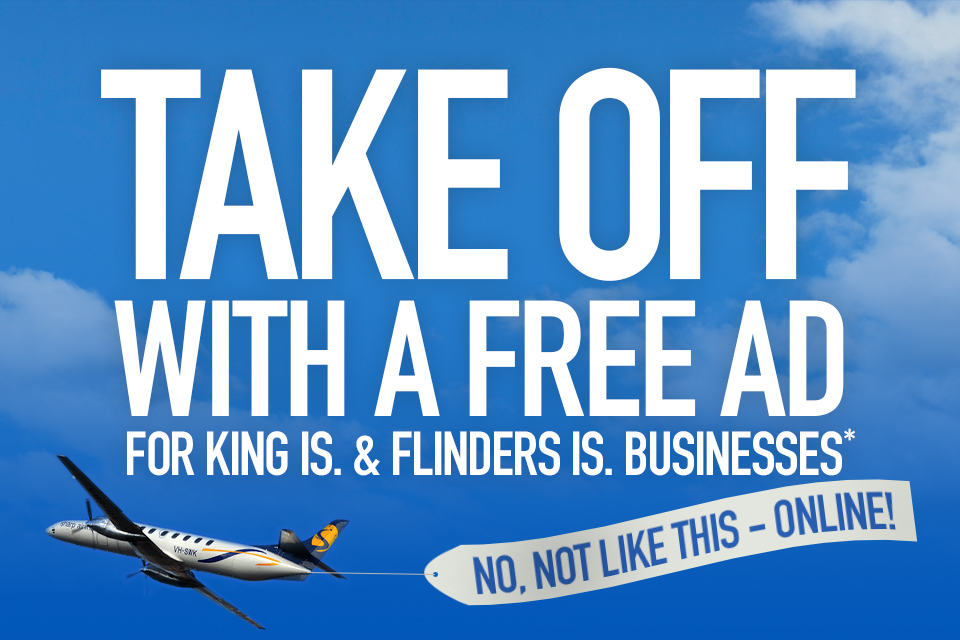 Does your business need a boost?

We've always been committed to providing community support wherever possible and we've built a reputation for listening to the public, investing in development and encouraging initiative. We are also very fortunate to fly to two particularly remarkable places, King and Flinders Island that hold a special place in our hearts. 

We're all about giving local business a leg up, so as part of our #StraitTalk campaign, during the month of September, we'll be offering eight businesses on King and Flinders Island the opportunity to fill an advertising spot on our website for a week each, free of charge!

Send a message to our inbox telling us the reason you'd love to get in on this opportunity and what it would do for your business, or nominate a friend! Based on these messages, we will then select eight lucky businesses!



Terms and Conditions

The promotion will run for 4 weeks, during September 2018, with each business receiving one week of free advertising only, each. Advertising is limited to one space per business.

Entries are available to King and Flinders Island businesses only. Promotion applies to the Sharp Airlines website only.

Artwork must be provided by the business and should be 720 x 480px in size. Eight businesses will be selected to participate, selection of the participating businesses will be at the discretion of Sharp Airlines and based on the message about how the advertising would help the particular business. 
Back to News Section